The flexible ERP with WMS for midsized businesses
✓ Ideal for trading companies with or without production
✓ Quick solution, onboarding in only 10 days
✓ Flexible and reliable on-premise hosting
✓ Starting at €35 / user / month ⓘ
QUICK SOLUTION
Onboarding in only 10 days.
MODULAR
Activate only the options you require.
SELF-SERVICE
Tailor your processes without programming knowledge.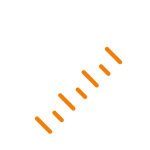 FLEXIBLE
The software adapts to the processes of the customer. And not vice versa.
FAIR SUBSCRIPTION
Add as many users as you want, but only pay for the active ones.
MONTHLY UPDATES
Download and install the latest version in a few clicks.
PERSONAL SUPPORT
Committed to provide exceptional customer service every single day.
E-COMMERCE
Integrated online shop for B2C and B2B, with easy adaptation by country.
SUSTAINABLE
Our innovative solution helps you reduce your carbon footprint.
YOUR WORLD AND CHALLENGES
THE VALUE OF IPTOR MULTIFLEX
We understand the unique challenges faced by small to medsized companies. That's why we offer Iptor multiflex, a comprehensive business management solution with a flexible wms, that tailors your processes to meet your specific needs. With Iptor multiflex, we provide you with the tools you need to manage your warehouses efficently and drive growth.
Our solution offers end-to-end support for your company, including different kinds of order generation, purchasing, inventory control, and manufacturing. Iptor multiflex automates your order processes, allowing you to process orders and get products to customers faster quickly and easily. Our solution also provides real-time inventory tracking, enabling you to monitor stock levels and make informed purchasing decisions.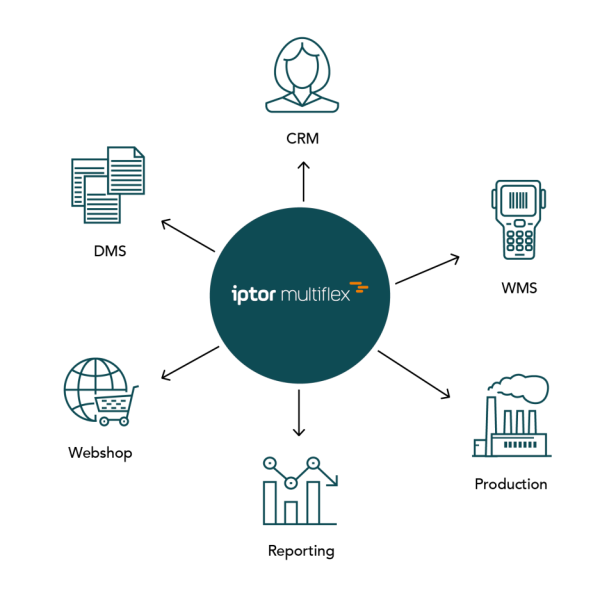 Additionally, we are proud to offer you our webshop module, capable of providing you with a B2B and B2C online shop fully integrated into the warehouse management system. From order processing to payment and shipping, the Iptor multiflex webshop covers everything you need to make your online business grow.
GET TO KNOW IPTOR MULTIFLEX
Familiarize yourself with Iptor multiflex by reading our case studies or by scheduling a free tour — no strings attached. Our team will gladly provide you with a demo and show you how to get started!
Specialized solutions for SMEs
"No matter what changes, ideas, wishes or projects we had in the more than 10 years, Iptor multiflex was always by our side. Consulting and also supporting at any time. We were always offered an innovative solution, whether as an ERP module, as individual programming or in the use/connection of external software. We are therefore convinced that in times of digital change we are well equipped for the next 10 years and longer with Iptor multiflex."
— Felix Funda, IT and E-Business Manager, EBERO AG
Don't settle for a one-size-fits-all solution
Tailor your ERP system with the modules you need and achieve unparalleled efficiency and performance. You can pick from our extensive library of integrations to customize your ERP solution to your unique business needs. Compatible with the Iptor multiflex Base Module, the modules can be activated quickly and easily, and are designed to run seamlessly, no matter how many users you have.
We offer integrations with a broad range of shipping companies, such as DHL, DPD, UPS, GLS and many more – Enabling you to simplify warehouse operations and reduce error rates considerably. By inputting package dimensions, weight, and zip codes, users can calculate shipping costs and generate shipping labels straight through Iptor multiflex, without switching between applications.
By exporting shipping files
Shipping file generation

Data transmission through FTP / SFTP

Import of package numbers
Through web-service interface
Direct transmission of shipments
Instant validation of the shipping details
Forwarding of the parcel labels and parcel numbers
With Iptor multiflex you can easily scale up by connecting your ERP system to the most popular e-commerce plattforms available, including Amazon, Ebay, Idealo and many more.  Expand your customer base and  speed up internal processes by:
Synchronizing product data, prices and stock information
Importing orders from Amazon, Ebay and other shopping platforms
Exporting order and shipping confirmations
Enhance efficiency and simplify your accounting and settlement procedures by seamlessly integrating with your preferred ERP and accounting systems – no third-party applications needed. Our integrations with well-established accounting systems empowers your financial capabilities while benefiting from our expertise in expense management.
Supported integrations:
ABACUS
ADDISON
BMD
DATEV
DIAMANT
We support companies from a wide range of industries such as lighting production and trade, electronics wholesale and retail, tire trade, plant and vehicle construction and many more.