The flexible ERP for the Utilities Industry
✓ Ideal for energy and utility companies
✓ Flexible solution for your unique challenges
✓ Secure and reliable on-premise hosting
The most important FEATURES at a glance
For energy utilities the future lies in centralizing and interconnecting all processes, as they digitally transform their infrastructure. This offers an opportunity to use data for better outcomes and reduced energy waste. Iptor multiflex covers all the processes in the utilities industry, including stock management, project planning, pipe flow metering and much more.
➔ Manage master data and work orders across departments efficiently.
➔ Improve operations with maintenance schedules and prevention.

➔ Simplify asset management and reduce downtime.
➔ Inventory management, including proof of stock movements across multiple locations
➔ Mobile data collection without paper, with inventory options via mobile devices.
➔ Flexible data transfer options via UMTS,  WLAN, LAN or USB.
➔ Technical condition documentation and compliance tracking with inspection schedules.
➔ Monitor upcoming meter replacements due to calibration deadlines.
➔ Document technical status and oversee inspection appointments and meter replacements.
YOUR WORLD AND CHALLENGES
THE VALUE OF IPTOR MULTIFLEX
We understand the unique challenges faced by the utilities industry. That's why we offer Iptor multiflex, a comprehensive business management solution that tailors processes from all utilities verticals: ranging form water, wastewater and up to electricity and renewable energy. With Iptor multiflex, we provide you with the tools you need to streamline your operations, increase efficiency, and drive growth.
Our solution offers end-to-end support for your wholesale business, including different kinds of order generation, purchasing, inventory control, and manufacturing. Iptor multiflex  automates your order processes, allowing you to process orders and get products to customers faster quickly and easily. Our solution also provides real-time inventory tracking, enabling you to monitor stock levels across multiple locations and make informed decisions.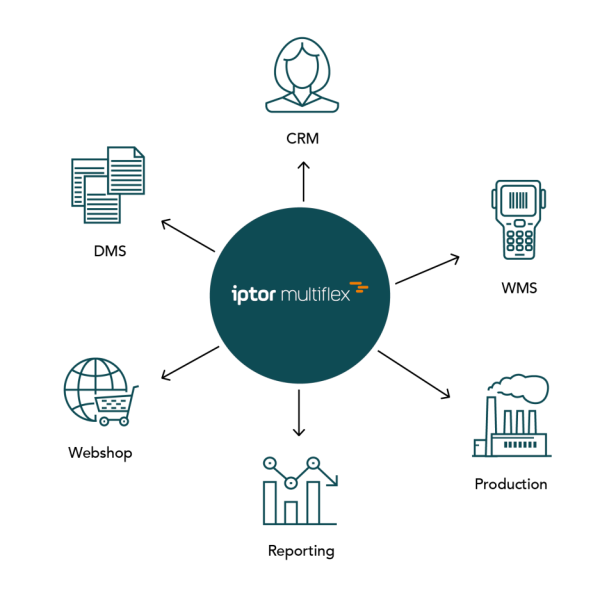 Additionally, our moudles provide you with the tools you need to optimize your utilities processes and minimize waste of resources. Update the graphic left for the utilities industry. 
WHITE PAPER: 7 HERAUSFORDERUNGEN IM GROSSHANDEL
In this report, we will show you how you can use Iptor multiflex to simplify the processes in your wholesale company and effectively meet your customer requirements. In our experience, here are the TOP 7 challenges that wholesalers face in their day-to-day business.
BOOK A FREE GUIDED TOUR THROUGH OUR ERP
Unlock the full potential of our ERP solution and take your business to the next level! Schedule a non-binding consultation today, and our team of experts will guide you through the extensive features and capabilities of Iptor multiflex. Let us demonstrate how our innovative solution can transform your business and enjoy a free guided tour. Contact us today to get started!
"No matter what changes, ideas, wishes or projects we had in the more than 10 years, Iptor multiflex was always by our side. Consulting and also supporting at any time. We were always offered an innovative solution, whether as an ERP module, as individual programming or in the use/connection of external software. We are therefore convinced that in times of digital change we are well equipped for the next 10 years and longer with Iptor multiflex."
— Felix Funda, IT and E-Business Manager, EBERO AG
We support companies from a wide range of industries such as lighting production and trade, electronics wholesale and retail, tire trade, plant and vehicle construction and many more.
If you are looking for a flexible solution for trade with or without production, this is the right place. Get in touch with us, we will gladly conduct an individual demo online or at your premises!
This website manages your data in order to respond to your inquiry and possibly develop a business relationship with you. To learn more about how we handle your personal data and to exercise your rights, please refer to our Privacy Policy.